Paddlers take to Hockanum River for leisurely trips

© Reminder News June 24, 2008
BY ANNIE GENTILE ReminderNews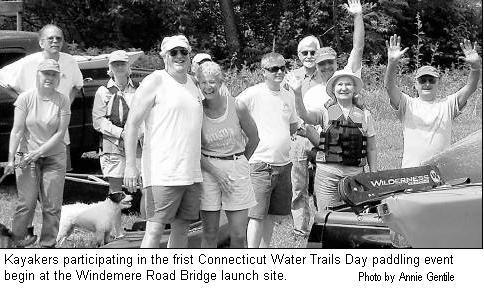 Following on the heels of Connecticut Trails Day, the first annual paddling event to celebrate Connecticut Water Trails Day was celebrated Saturday, June 14, with two runs through four towns along the Hockanum River.

Sponsored by the Hockanum Watershed Association and the Connecticut Water Trails Association, the morning event began at the Windermere Road Bridge in Ellington, following an approximately 1.5-mile , meandering route into Vernon. A second run led by Frank Belknap was held in the early afternoon on a portion of the Hockanum River that runs from Manchester into East Hartford.

The Ellington run was intended to begin at an open area on Lower Butcher Road, but due to an unexpectedly low water level, the launch was moved to the Windermere Road Bridge. The Association chose the Ellington section of the Hockanum River for a launch point to show off to local paddlers just what the area has to offer right in their backyard.

The selected area includes a marsh which attracts such species as redwinged black birds, tree swallows, song sparrows, wood ducks, mallards and even the occasional great blue heron and bald eagle. Paddlers were also alerted to watch for beavers, as they would be paddling over two of their dams, as well as for painted and snapping turtles.

The route, which had some narrow passages, was prepared several days in advance for paddlers. Jeff Feldmann, an expert paddler, birder and photography enthusiast who led the event, spent several days with fellow paddler Bruce Jokubaitis clearing the area to make the waterway more passable. Doug Smith, Dave Smith and the Ellington Trail Committee also helped prepare the river for the paddle. Scott Sternberg served as sweeper for the event, taking up the rear position in the event to assist any paddlers who might need help.

"I've paddled this section [of the Hockanum River] before," said Feldmann . "Between Windermere and Windsorville roads, I've seen a 2- or 3-year-old buck. There are beautiful ducks that migrate here every year, and in order to bring them to the area, we put up duck boxes on posts which they use to nest. I've seen blue herons, and even a bald eagle, although it is probably not a resident there," he said.

"My goal as a leader is to get people from Ellington interested in this section of the river. It's not pristine. There are sections with a lot of debris, and so part of the goal is to get people also interested in coming out for an annual clear-the-river day," Feldmann said.

Feldmann said the wildlife in that section of the Hockanum River is worth coming out for and added that it's a wonderful area for bird-watching . Feldmann also emphasized that the event was not a race, but simply an opportunity to take in and experience the river and surrounding wildlife in an enjoyable one- to two-hour experience that he hoped would result in people returning again and again.