IM MEMORIAM - DR. DOUGLAS H. SMITH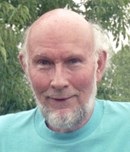 Obituary originally published in The Hartford Courant on April 9, 2017.
The world lost a dedicated conservationist on March 28, 2017, when Dr. Douglas H. Smith, 89, passed away at his home in Manchester. He was born February 21, 1928, in Flushing, NY, only child of the late Robert and Mabel (Humbert) Smith.

Doug grew up outside New York City, and as a child in Pelham, inherited a love of gardening and fishing from his father. Wanting to study agricultural research, he attended Cornell University. A roommate inspired Doug's interest in medicine and Doug switched to Syracuse University to complete his undergraduate studies and graduated from medical school in 1953.

During this time, Doug met his wife of 64 years, Jean C. Smith, with whom he raised three children. Moving his family to Baltimore, MD, he completed his internship at University Hospital in 1954. He completed his residency in anesthesiology in 1957, and served as an instructor in anesthesia before entering the U.S. Army Medical Corps at Fort Belvoir as Chief of Anesthesia.

In 1959, he was offered a position at Manchester Memorial Hospital (MMH). He was a board-certified anesthesiologist until he retired in 1993, always dedicated to his patients. He served as Chief of Anesthesia from 1983-1988 and President of the Medical Staff at MMH from 1985-1987.

Never content to be idle, he became active in the Manchester community, focusing on the environment. He worked with the Jaycees, building a bus stop on West Center Street and on various clean ups. From 1965-1980, Doug was Chairman of the City Beautiful Committee through the Manchester Chamber of Commerce planting memorial trees, giving beautification awards and working on town-wide clean-up programs. In 1970, Doug and others persuaded the Town to create the Hockanum River Linear Park Committee, a subcommittee of the Conservation Commission. He served as Chairman of that committee until recently. It was his life's passion. He worked regularly with a group of volunteers he recruited to create 16 miles of hiking trails along the Hockanum River, 66 benches along those trails and about 10,000 trees planted over the years. He never tired of visiting the trails and advocating for the Hockanum River, in Manchester and surrounding towns. He was committed to waterway and greenway open space preservation and watershed protection.

In 1972, he co-founded the Manchester Land Conservation Trust, Inc. to preserve land in Manchester as open space. He served as President for a number of years and was most recently a Director Emeritus. Doug also served on the Manchester Conservation Commission until recently.

Over the years, Doug received many awards and honors for his tireless work in the community. He never wanted the recognition for himself. Doug preferred that all the volunteers be honored. Former Chairman of the Chamber board, Greg Wolff said, "He is certainly not one to back away from hard work or overwhelming odds, and his dedication and perseverance are an example for the rest of those involved in community affairs."

Doug loved being by the water, and built a home on Shelter Island, NY. Relatives and friends were frequent visitors to the house where they could sail, fish, swim, and picnic at area beaches. Doug was always taking photographs, trying to capture the perfect sunset. In the summer, the house was a hub of activity as Jean and the 3 children lived there. On days off, Doug would fly down for the day landing in a nearby grassy field. In the later years, it was a second home where many weekends and vacations were spent with family and friends.

Doug took flying lessons at Brainard Airport and became pilot of a Piper Cherokee. He joined the CAP Flying Association in Hartford where he could rent a plane when he wanted to fly. In 1964, he flew the family to Florida to visit relatives.

He was a self-taught photographer since 1945, specializing in landscape and nature photos, and working in color slides. In Baltimore, he photographed inner city architecture. When he came to Manchester, his interest focused on preparing and presenting slide shows on municipal beautification, travel, wildflowers, and open space conservation. He would present his slide shows to community groups and at meetings to promote involvement. Slide shows were common at most family events. His work is on permanent exhibition around town and has been displayed at galleries around the US.

Doug was predeceased by his wife, Jean. He is survived by his three children, Bradley C. Smith and his wife Jenny, Jeffrey C. Smith and his wife Rachel, and Cynthia C. Smith; daughter-in-law, Cinde Smith; four grandchildren, Julie, Drew, Elizabeth and Catherine; one great-grandchild Lily Jean; along with many nieces, nephews and cousins. Doug was kind hearted and generous, always willing to help. He will be missed dearly by those whose hearts he touched.

A service to celebrate Doug's life will be held Saturday, May 6, 2017, at 10:30 a.m. at Hilliard Mills overlooking the Hockanum River, 642 Hilliard Street in Manchester, CT. A reception will follow.

In lieu of flowers, memorial donations may be made in Doug's memory to the "Hockanum River Linear Park Committee," Manchester Recreation Department, P.O. Box 191, 41 Center Street, Manchester, CT 06045-0191.

To add a message to Doug's memorial guest book, please click: Guest Book.