NEIGHBORS

Love of nature drives volunteers to care for river trail

© Manchester LIFE August 9, 2009
by Jan Tormay
photos by Jeff Kiley
reprinted with permission
In their own quiet ways, a group of 18 volunteers are bringing much joy and tranquility to people by providing them with places to jog, fish, kayak, canoe, cross-country ski, snow-shoe, hike and do letter-boxing.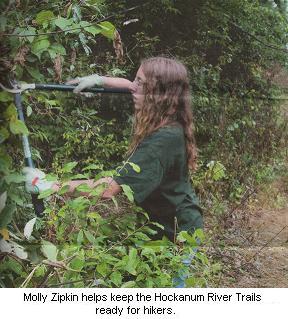 They're members of the Hockanum River Linear Park Committee, a subcommittee of the town's conservation commission, which formed in 1970. They're also known as "the other men in blue" by waitresses at Chez Ben, a restaurant they frequent after their work is done. Periodically, women join the volunteer crew too.

Without these volunteers, the 15 miles of trails along the Hockanum River in Manchester would be overgrown and unusable.

Members of different groups were inspired by former town planner Joe Tamsky to form a committee and focus their attention on the Hockanum River.

He believed it was important to preserve the waterways and provide a greenbelt to separate the towns, said chairman Doug Smith, one of the founding members of the Hockanum River Linear Park Committee.

Describing the committee's passionate efforts as tireless and relentless, during a telephone interview, town manager Scott Shanley said, "Communities survive or die based on whether or not they have people like this committee in them ... At times as a manager, you take a deep breath and realize that if it were not for folks like them, things like this greenway would just never get done."

Wearing light blue T-shirts or sweatshirts, members sometimes work alone. Other times, in small groups, three mornings weekly. They use clippers or a folding saw to clear paths, trim brush and prune branches.

Sometimes they pick up debris, mow grass, plant trees or fence them in to protect them from beavers that have chewed on them. They can also be spotted building steps on steep ground and footbridges over streams or muddy areas.

They're always cutting invasive plants such as Japanese knotweed and bittersweet that choke the trees they attach to.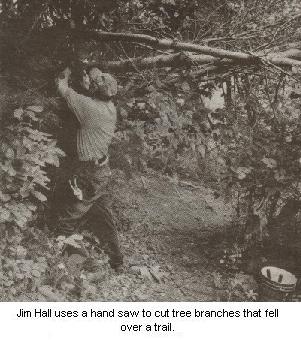 Sometimes, members receive help from other non-profit organizations such as the Boy Scouts or Hockanum River committees from East Hartford, Vernon and Ellington.

Every spring, volunteers pull out of the river shopping carts, engine blocks, deer skulls, computers, tires, lawn chairs, CDs, bottles and cans.

The committee's goal is to keep the river and the corrider along it in a natural state, free of litter and development, said chairman Doug Smith standing at the Hilliard Hiking Trail after parking in a lot at the corner of New State Road and Hilliard Street.

This scenic spot offers a wooden bench facing the tranquil Hockanum River, which is also used for fishing and launching kayaks and canoes.

Bird watchers have discovered that the Hilliard Trail is also a great location for watching mallards, Canada geese and occasionally, great blue herons and belted kingfishers.

People don't usually get lost on any of the nine trails, which range between .15 and 3.5 miles, because if one follows the river, it leads to a street, said Dr. Smith, 81, a retired anesthesiologist. Also, orange trail markers guide visitors.

Scattered throughout the 15 miles of trails in Manchester are 36 benches for those who need a rest. No vehicles, dirt bikes, or bicycles are allowed. Dogs are permitted, as long as they are on a leash and owners clean up after them.

"Having trails up and down the river, you can inspect every inch of the river to make sure it's all right. If we see problems, we try to correct them, said Dr. Smith.

"It's a great river," said member Jeff Feldmann, 67, of West Hartford. "Usually people don't think of the Hockanum as a tributary of the Connecticut River. It's very important, because it's headwaters for a reservoir."

Additionally, he said, a lot of rivers flow into the Hockanum.

Natural diversity

Even though they work hard, these volunteers enjoy being immersed in nature and seeing a wide variety of wildlife, including deer, river otters, turkeys, weasels, tiny snakes and even an occasional coyote that runs the other way. There are also hundreds of birds, including egrets and bald eagles.

The volunteers contiue to be surprised at what they discover. Last spring, they saw a flowering crabapple on the trail for the first time. They have also identified a long list of trees and wildflowers.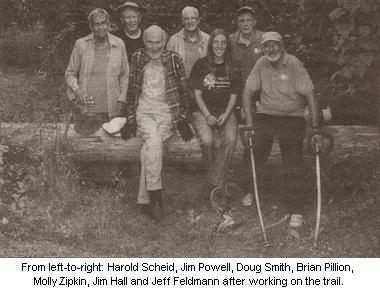 Recently, Mr. Feldmann said they were working on the back side of Laurel Marsh and came acros an active bees' nest, "which was pretty awesome to look at. It was really beautiful."

The professional photographer and expert birdwatcher joined the group after retiring from the University of Hartford as a grounds supervisor. For the most part, he said helping maintain the trails, kayaking, birding and taking photographs makes for a fulfilling day.

Mr. Feldmann said he ends up with poison ivy four or five times yearly. He is a member of the Hartford Audubon Society and leads kayaking trips for the organization.

Additionally, he belongs to The Connecticut River Drifting Society, which paddles and canoes downstream with the tide on Connecticut waterways and camps out 10 months of the year.

Each member brings his or her own talents to the Committee.

Of the retired professional group, Dr. Smith said with eyes sparkling, "Oh, we have the finest ... We don't just allow anybody to work on the trails ... We're highly selective."

One of the members shouted, "I hope you got that on tape... Nobody is ever going to believe this."

Birder Jim Powell of East Hartford builds, installs and maintains wood duck boxes for birds to nest in when they return to this area in the spring. There are 34 in Manchester alone. "Normally, they would use cavities in trees," Dr. Smith said. "We just help them out by giving them a place to nest, raise their young and leave."

Member Jim Hall of East Hartford retired as a computer programmer from Travelers two years ago and is now the committee's webmaster. He said maintaining the trails for 1.5 to 2 hours is a good reason to get up in the morning.

Member Harold Scheid, 86, of Manchester worked for the State of Connecticut Correctional Facility's farming department and later, Pinney Farm. "I think it's a fine group of men, and I enjoy being out with them."

As for the teasing and joking, he said, "I enjoy that part too. I've been coming out for eight years now, because I moved to Manchester in 2001 and I started walking immediately on the trail ... Somebody took half my telephone number and the other one took the other half ... That's how they drafted me to come out."

Mr. Feldmann said he got involved during the annual Connecticut Trails Day, which is held every June and sponsored by the Connecticut Recreation & Parks Association. The Hockanum RIver Linear Park Subcommittee participates in this event, as well as an event with the Connecticut Water Trails Association.

Mr. Feldmann is a member of the Hockanum River Watershed Association, which encourages people in all four towns to protect and maintain the river. Dr. Smith is the association's president.

There is more to the Hockanum River Linear Park Subcommittee than just trail/river maintenance. After its work is done, members meet at Chez Ben Restaurant on Wednesdays and Fridays and Valentino's Restaurant on Mondays. They celebrate their birthdays and monitor each other's illnesses. Member Ed Waite wasn't with them this day, because he was recovering from surgery.

Memorial trees

Beginning in 1981, members started a tradition of planting seedlings of white pine tree, evergreens and blue spruce. At this point, Dr. Smith calculated they planted about 10,000 seedlings. "Probably 70 percent of these have died. We used to buy them by the thousands and plant them. Now we buy them in 25s and plant a bigger tree in memory of each person (committee member) who has died."

So far, they have planted 10 memorial trees, a tradition they started in 2000. One such tree will be planted in October for expert botanist and long-time member Glenn Cornish who died in May. He is remembered for his extensive knowledge of native and invasive plants and great sense of humor.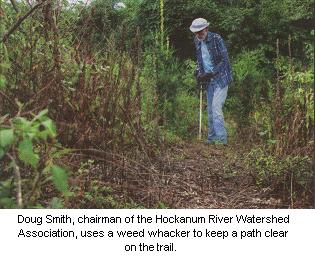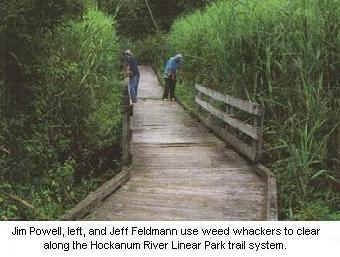 Next year will be the subcommittee's 40th anniversary.

"We are expecting a nice celebration next April ... We want the town to treat us to a nice lunch or dinner," Dr. Smith said in jest.

Mr. Shanley said a dinner for the subcommittee is being planned and it's the town's pleasure to thak them in this small way for all the work the group has done for decades.

Member Brian Pillion, 56, of Manchester enhoys volunteering his time.

"It beats being a couch potato. I just enjoy walking on the trails and get a lot of pleasure out of getting out there, cleaning up and making sure that if other people want to use it, it's in good shape, so people can enjoy themselves."

This volunteer group welcomes new members - both men and women. Just bring your love of nature, sense of humor and be willing to work hard.

For a vast amount of information, go online to www.hockanumriverwa.org. Click on "Manchester" and discover good spots for cross-country skiing, showshoeing and kayaking.

There is also a link to "noxious plants," which offers information and pictures of ones to stay away from.

To learn about all nine of the trails maintained by the committee and parking, scroll down the website's main page and click on the different trails.

The Manchester Town Hall customer service department also has information about the trails and will print out maps for people who don't have access to computers.

Before heading out, remember to take your cell phone and tell others where you are going. Click on "Safety Tips" for mainy other reminders. Also, it's a good idea to wear pants and protect your skin, as there is some poison ivy and other plants many people are allergic to on the trails. ML