<!>

Distance: About 1 mile one way.

Maintained by: The Ellington Hockanum River Trails Committee (EHRC)

Parking at the beginning of the trail:
The trailhead and parking area are on Franklin Street, Vernon, on the left, one half block up the street off Windsorville Road.


The trail walk:
From the trailhead, the trail winds through a wetland forest along the river behind the Maple Grove Club, first in Vernon and then, after a few hundred feet, in the Town of Ellington. The trail has a woodchip surface. It goes over a footbridge and passes bench #1 nailed between 2 oak trees, then along a wetland on the left. It then comes out to the edge of the river, with mature blueberry and winterberry bushes overhanging the water.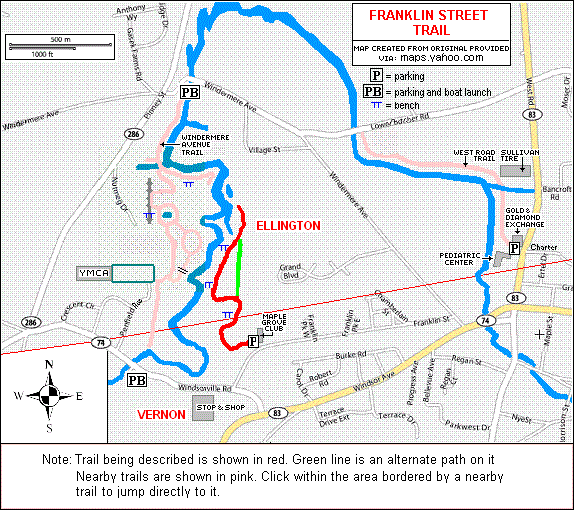 The path now turns right and goes up a hill, past bench #2, through mature forest with various ferns and Prince's Pine everywhere.

Just ahead on the hilltop, on the left and facing the Great Ellington Marsh, is bench #3 with a spectacular panoramic view of the vast open space and the river winding through it.

The trail continues, now down the hill and further along the marsh, eventually coming out onto an old corn field currently being converted into a housing cluster. Eventually the trail will wind through the housing complex and out onto Windemere Avenue.

There is an alternative loop trail, marked with orange blazes, back to the trailhead in the forest. (And don't forget to sit on bench [#1] between the 2 oak trees.)
Trail Photos:
Click on a photo to bring up a larger view of it.