<!>

Distance: About 1 mile one way.

Maintained by: The Ellington Hockanum River Trails Committee (EHRC)

Parking at the beginning of the trail:
The trailhead and parking area are in the right rear corner of the Al Noor Society and Pediatric Office property at 4 West Road, Ellington at the Vernon-Ellington town line.


The trail walk:
From the trailhead, the trail follows the river downstream, mostly close to the river bank, through woodland. It comes to bench #1 facing the river, and then goes up a short flight of steps along a mini-hill, and then back down some more steps.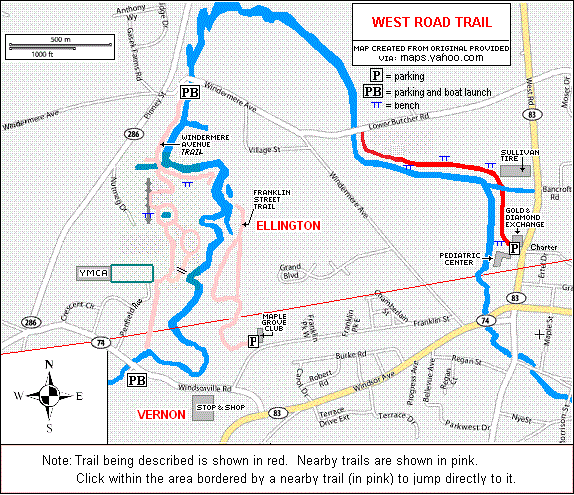 At the bottom it continues downstream along the river, crossing over a footbridge (Sullivan Tire Company can be seen through the trees), and moves past an old bench. It continues downstream for about 3/4 of a mile past benches #2, #3 and #4 facing the waterway.

The trail continues through more forest along the river, with views towards the hills surrounding Shenipsit Lake.

From here the trail continues, to terminate at Lower Butcher Road, where there is a small, muddy parking area off the road. Hiking return is over the same course.