HOCKANUM RIVER CANOE & KAYAK ACCESS GUIDE
FOR MANCHESTER, CONNECTICUT
(including Union Pond)

reproduced with permission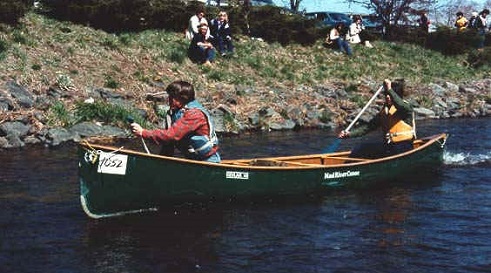 THE HOCKANUM RIVER FLOWS IN A VERY WINDING COURSE FOR 25 MILES FROM THE SHENIPSIT RESERVOIR THROUGH THE FOUR TOWNS OF ELLINGTON, VERNON, MANCHESTER AND EAST HARTFORD, TO EMPTY INTO THE CT RIVER JUST NORTH OF THE CHARTER OAK BRIDGE. THE RIVER COURSES FOR SEVEN MILES THROUGH MANCHESTER, FROM THE VERNON-MANCHESTER TOWN LINE, NEAR THE MOTEL 6 ON ROUTE 83, AND LEAVES MANCHESTER BEHIND THE McDONALDS RESTAURANT ON BURNSIDE AVE. EAST HARTFORD. (ed. notes below added Aug 21, 2017 by T. Mitchell of Rivers Alliance CT and J Hall of HRWA).


#1 Access out & in River. NOT FOR NOVICES. Turn off Route 83, Vernon, into entrance road to Motel 6, (ed. note: try gps 51 Hartford Turnpike, Vernon, 41.81878, -72.5043) park in first lot on right. 100 ft. upstream, put boat in at grass ramp opening to river (ed. note: this is just below the confluence of the Tankerhoosen River, just upstream from the the Oakland hiking trail. River elevation here 172 feet above sea level. Flat easy entry here. Class one rapids, one foot high steel dam 200 feet downstream, mild swift water, close to I-84 and businesses, one mile downstream quickly becomes more rocky with one foot ledge diagonally across river, class two to three rapids after passing under three street bridges, may carry around rapids on left for 500 feet. Best to view this section of rapids behind Beacon Light, Oakland Street before entering these rapids, NOT FOR NOVICES. River then becomes flat and enters Union Pond, about one mile across length of pond, sometimes headwind, take out & portage to left of dam, at southwest corner of pond for further trip downstream. Distance from access #1 to dam & access #2 is 9700 feet or 1.84 miles. Elevation next to dam 142 feet. Segment drop 30 feet.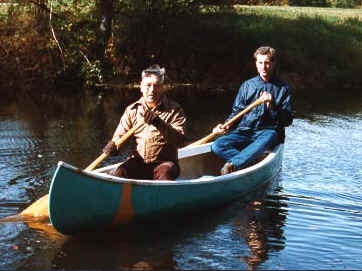 #2A Access in & out Union Pond only. Park & boat ramp close off North School Street at junction of Lydall Brook and southeast corner of Union Pond to tour pond, elevation 142 feet, perimeter around pond - 9500 feet. Segment drop 0 feet. (ed. note: Reference map of Union Pond hiking trail -- right "B" icon).


#2 Access in River. Park next to dam off Union Street, then carry down concrete steps & rocky slope down to river, elevation here 120 feet. Class one to two rapids, occasional boulder, nice forest valley, sharp turn to left, go under North Main Street bridge, take right channel under bridge, then quick left around gravel bank, more valley forest, easy pools and rapids, low branches, high railroad trestle overhead, easy take out on grassy slope on left 50 feet downstream from trestle. This is access point #3. Distance from #2 to #3 is 4400 feet or .83 miles. Elevation here 97 feet. Segment drop 23 feet. Segment drop 0 feet. (ed. note: Reference map of Union Pond hiking trail -- left "B" icon).


#3 Access out & in River. North on Fleming Road off Hilliard Street, park at end of down hill road, carry 80 feet down grass slope to flat river bank (ed. note: near north end of Adams Mill hiking trail). Intermittent pools and class one rapids, trees in river, curves, gravelly shallow spots, hazardous stump protruding from right river bank, swift current into stump, take rocky sharp right channel around island, more quick turns, gravel banks, keep left under Adams Street, right around next island, close along Hilliard Street, take out available up grassy slope on left just before New State Road bridge. This is access point #4. Distance from #3 to #4 is 5500 feet or 1.04 miles. Elevation here 78 feet. Segment drop 19 feet.


#4 Access out & in River. Park in lot at northeast corner of Hilliard Street and New State Road (Hilliard hiking trail), carry 40 feet on wooded path to slope to river. New State Road bridge close by, curves, tree obstacles, brief class two rapids, rocks, best flow on right, low trees overhead, many turns, flatter water, curves, big low tree, high tension towers, flat take out on north side of Middle Turnpike West (Routes 6 & 44). Distance from #4 to #5 is 6400 feet or 1.21 miles. Elevation here 70 feet. Segment drop 8 feet.


#5 Access out & in River. Park on north side just off Middle Turnpike West (New State Road hiking trail,between Hockanum bridge and entrance onto I-84, carry 50 feet down low grass slope to river. Middle Turnpike West bridge just ahead, then slow flat tortuous flow through Laurel Marsh, active landfill on left, many water birds, Hop Brook enters from left, vacant osprey nesting platform on right, stop for view and rest at observation platform on left ahead, large tranquil open marshland one mile, gentle curves, then three interstate highway bridges, traffic noise, then quiet woodland ravine, apartments high on right, dam ahead on left and take out on right up slope behind McDonald's on Burnside Avenue, East Hartford, CT. Distance from #5 to #6 here 11,000 feet or 2.08 miles. Elevation now 64 feet. Segment drop 6 feet. Trip downstream requires portage up slope on right around dam here. Boating downstream 3.5 miles to CT River requires further portages around tree dams in East Hartford.


TOTAL RIVER DISTANCE FROM QUALITY INN, VERNON TO McDONALD'S, BURNSIDE AVENUE, EAST HARTFORD IS 7.0 MILES.

LOW WATER NOTES: Access points # 1, 2 & 3 are only good when water levels are moderate to high. River passage during low water seasons is difficult due to many shallow spots. Access points # 4 & 5 have somewhat better water depths for dry seasons. Union Pond good at all seasons.

SAFETY NOTES: Never canoe or kayak alone! Head gear is recommended. Extra paddle is a good idea. Personal flotation device essential. Wet suit in cold weather is good. Bow or stern line important. Water bottle is good. Bring waterproof camera. Happy boating.

Information on registration for the Annual Hockanum River Canoe/Kayak Race held each (early) April is available at the Manchester Town Hall: 860-647-5235.

The Hockanum River Linear Committee is a subcommittee of the Town of Manchester Conservation Commission. This subcommittee (HRLPC) has been in existence since 1970 and has been working to clear obstacles in the river for boating and to maintain trails for hikers along the river in Manchester since that early date. The group is made up of volunteers dedicated to the scenic beauty, environmental clean-up efforts, and general preservation of the natural open space green belt along the river. Any interested members of the community are urged to join and help at any convenient times with our ongoing dedication to the Hockanum.

For more information about hikes or participation in our committee, please call 647-5235 at the Town Hall during the day, and 649-5678 evenings and weekends. Thanks for your interest.