<!>

Distance: About 3/4 mile one way.

Maintained by: The Hockanum River Commission, East Hartford.

Parking:
Follow the local streets of Forbes Street or Scotland Road to Chipper Drive, where the parking lot is on the left. This intersects the trail a bit east of its terminus on Scotland Road. Parking is also available in Labor Field at the other end of the trail.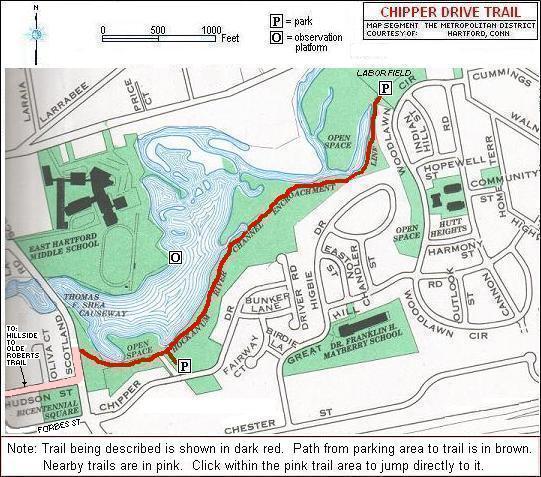 The trail walk:
This trail segment is a comprised of stone dust and boardwalks. From the parking area, the access path heads towards the Scotland Road Pond section of the river. Where it intersects the trail, a side path of about 750 feet to the left will terminate at Scotland Road, while the main length of the trail heads upstream along the Pond, providing expansive views of the water and abundant waterfowl. The East Hartford Middle School is on the other side where, while not part of the Trail proper, there will be found an observation platform.

The path continues upstream along the pond and river, to open out onto Labor Field. From here it follows along the river and ends just past the park out on Walnut Street.