Hockanum River Linear Park Committee founder Dr. Douglas H. Smith passed away on March 28, 2017.
To read Doug's obituary, from the April 9, 2017 Hartford Courant, please click obituary.
On June 1, 2018, Bryan Island was formally renamed to "Doug Smith Island", in a ceremony on the
island. To access a section on the dedication ceremony in this website, please click ceremony.



<!>




HOME PAGE





The East Hartford Hockanum* River Commission maintains hiking trails alongside the Hockanum River. These volunteers and other civic organizations, such as the Boy Scouts and Girl Scouts, have worked to preserve the scenic woodlands, wetlands and wildlife on the river and to provide hiking trails for public recreation.

The Town of East Hartford has designated a primary hiking trail (the Hockanum River Linear Park) encompassing about 4.5 miles along the Hockanum River; with parking areas situated at various points along its length.

The 1st segment, Meadow Hill, exists where the Hockanum flows into the Connecticut River. While there is parking about 1/3 of a mile south of the Town Hall on Main Street at Kahoots, a more scenic parking area can be found at Great River Park near the Connecticut River.

The remaining 3.5 miles of the Linear Park is continuous, and for the sake of convenience has been divided into 6 trail segments corresponding to nearby parking spots.

For information on a particular Trail segment, click on the segment's Link or on the colored segment itself on the Town of East Hartford map.
______________________
*The word HOCKANUM comes from the Native American word "Hocquaun", meaning a hook-shaped or crooked river.






<!>

Trail Segment Links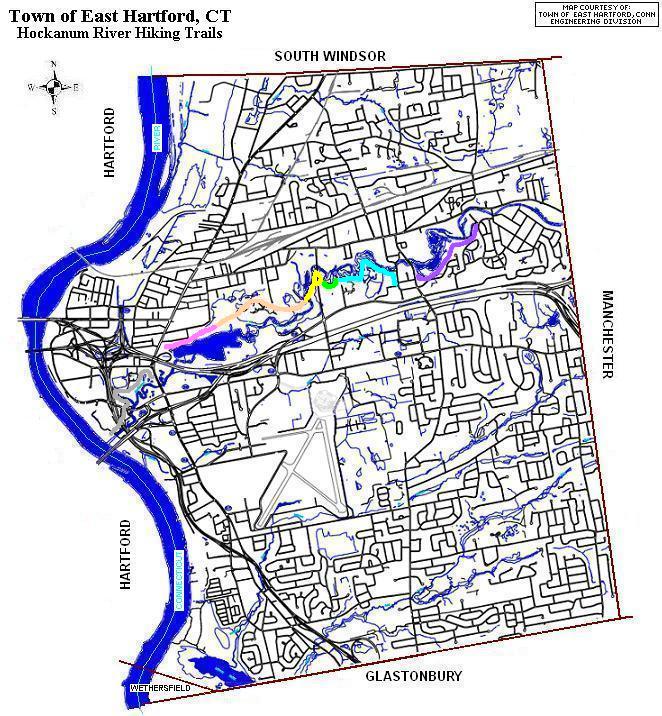 Click on an image to bring up a larger view of it.




Web contact: jamesh52@comcast.net