<!>

Distance: About 1 mile one way.

Maintained by: The Hockanum River Commission, East Hartford.

Parking at the beginning of the trail:
Best parking is at the Great River Park off East River Drive in East Hartford.

The trail walk: From the parking lot at Great River Park, follow the Great River Park Trail south along Connecticut River until you reach where the Hockanum River empties into the Connecticut River. Here the trail takes a left turn. When you near a footbridge which crosses over the Hockanum, do not cross the bridge but instead bear left and go down a small hill. This is the start of the Meadow Hill Trail.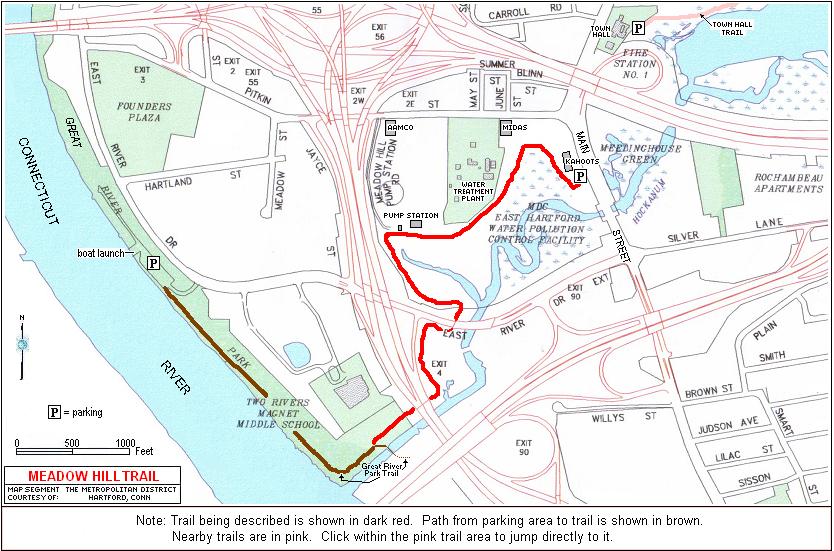 The trail parallels the Hockanum River for a while, passing beneath 2 road bridges before turning left to follow an inlet of the Hockanum. It then proceeds along and above the floodplain, parallelling the road serviced by the second bridge. Vegetation is mostly grass, though in the floodplain it consists of trees and patches of Oriental Bittersweet, Japanese Knotweed, and phragmites. Water may or may not be visible, depending on the degree of river flooding.

As your proceed, to your right you'll shortly be able to see the East Hartford Dike, along with a couple of structures extending out from and perpendicular to it. Continue along and the trail goes upwards until you reach the top of the Dike.

From here, the trail takes a sharp right turn, which has a marker pole showing the continuation of the Trail. The trail now continues along the top of the Dike, passing behind both the Pump Station and the Water Treatment plant. Various businesses along Pitkin street will be visible to your left, while to your right you'll see, again, the marshy floodplain area and relatively sparse tree growth and phragmites patches.

The trail then terminates at a set of stairs leading down to the parking lot of Kahoots on Main Street.

To reach the Town Hall Trail, walk north on Main Street for about 1/3 of a mile and then cross the street at the East Hartford Town Hall. The trail is at the rear of the Town Hall's parking lot.