<!>

Distance: About 1/2 mile one way.

Maintained by: The Hockanum River Commission, East Hartford.

Parking at the beginning of the trail:
Parking and the trailhead are located in the rear of the Town Hall parking lot, off 740 Main Street in East Hartford, CT.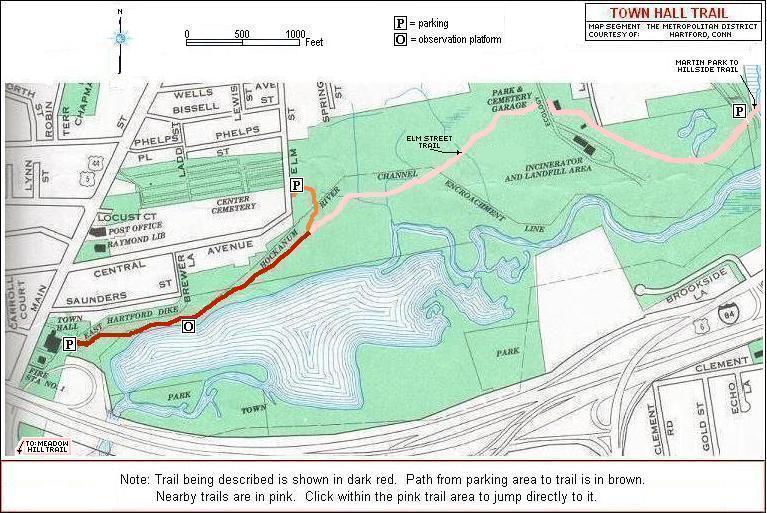 The trail walk:
This trail segment starts by going up a short flight of steps, and follows the earthen dike to the left, and then goes down another flight of steps to an elevated boardwalk. This boardwalk goes along the north side of East Hartford Lake, and provides panoramic views of the lake on the right, Interstate-84 in the distance, and woodland-wetland on the left.

Note that there are actually 2 observation platforms on this trail. Only the one on the southern side is shown, however, as the other one (close to it, on the northern side of the trail) has been frost-heaved up and is not recommended for use.

The path winds around through forest, and connects with the next trail segment coming in from Elm Street.

Note: Going the other direction from the East Hartford Town Hall, and south along Main Street for about 1/3 of a mile and across the street to the Kahoots parking lot, you will get to the Meadow Hill Trail, beginning up the stairs on the left to the top of the East Hartford Dike.