<!>
Distance: About 1 mile one way.
Maintained by: The Hockanum River Commission, East Hartford.
Parking at the beginning of the trail:
Parking and the Hillside trailhead are located on the east side of Hillside Street, on the south side of the river. Parking at the terminus of the trail segment is on the south side of Olde Roberts Street near where it intersects with Roberts Street.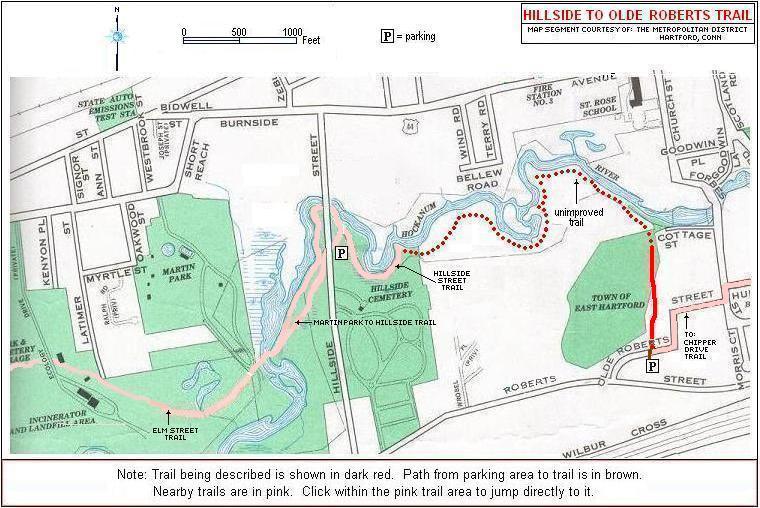 The trail walk:
Proceeding upstream, the Hillside Street Trail follows the river. At the end of its boardwalk are 2 benches. From there, the new section to Olde Roberts Street winds along the Hockanum through beautiful mature open forest. The mostly unblazed path twists and turns, close to the river, and crosses 3 wet areas where footbridges are planned and awaiting funding. These wet spots are usually passable except during flood stages of the river.

There are orange blazes for about 1/4 of a mile, and then the hiker must follow the river bank up to a point across from the Old Mill. The trail then makes a right turn, generally following a brook, up a hill and out towards Olde Roberts Street. Here the trail becomes more defined with wood chips, and much more difficult with broken concrete, amesite, and dirt dumped many years ago. Eventually the path opens out onto Olde Roberts Street at our landmark green and white "Hockanum River Hiking Trail" sign.

From this spot the trail turns left and follows along local and residential streets of a quaint, historic neighborhood, to eventually reach Scotland Road end of the Chipper Drive Trail.
Trail Photos:
Click on an image to bring up a larger version of it.