<!>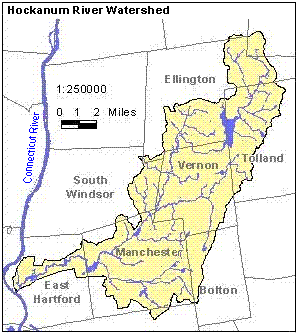 NATURAL FEATURES

Originating in the hills around Shenipsit Lake, the Hockanum River continues southwesterly into the Connecticut River valley. The Hockanum River itself is 25 miles in length, and drops 497 feet in elevation. (For a breakdown in the changes of elevation along its route, click here.)

Shenipsit Lake, at about 2 square miles, is the area's largest lake and serves as a water supply for Vernon and portions of neighboring communities. Three other ponded areas in the Watershed are: Paper Mill Pond and the 2 portions of the Walker Reservoir in Vernon, and Laurel Marsh and Union Pond in Manchester.

The Hockanum River Watershed is composed of 2 regions with distinct geological and ecological features:

> The Bolton range, in the watershed's eastern region, forms a distinct dividing line in the watershed. This region consists of steep, rugged terrain, with local ridges of metamorphic rock (ledge) and glacial till. Deposits of sand and gravel are also present.

> The topography of the western region is flatter (more subtle) because of the sedimentary red bedrock. Well-drained soils originate from red-clay glacial till on small hills; and in the valleys there are deposits of sand, gravel, and glacial lake clay.

Before the 17th century, the watershed's eastern region primarily consisted of oak, chestnut, white pine, hemlock, sugar maple, beech and hickory trees. The western region primarily consisted of red maple, birch and hemlock trees, with upland species scattered throughout in more well-drained soils. During the past 3 centuries, these forests have been cut many times and the chestnut has all but disappeared from a blight at the beginning of the 20th century. Presently a bit less than 50% of the forested watershed consists of oak and maple trees. Other species include conifers, hickory, birch and alder.
Animals
The watershed is home to a diverse community of animal species. Both bald eagle and osprey have been sighted.
Though there has been a resurgence of beaver in this area of the state, beaver dams do not seem to present a significantproblem on the river.

For diagrams of the kinds of animal tracks you could encounter along the Hockanum River trails, please click here.