<!>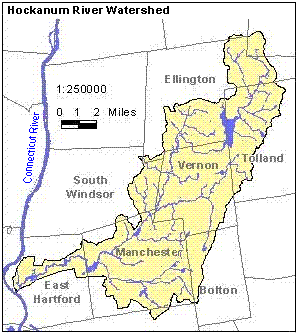 WATERSHED HISTORY

Before colonial times, the Hockanum River was used by Native Americans as a source of fish and as a travel route to the Connecticut River. Three Native American populations lived in the watershed: the Podunks of East Hartford and Manchester, the Nipmucks of Ellington and Tolland, and the Mohegans near the river's mouth. Although there were no permanent settlements along the river, temporary encampments were common.

Near Rockville, the Hockanum River descends rapidly from Shenipsit Lake. Along this stretch of river there were a dozen or more waterfalls that were once suitable sites for waterpower development. During the 18th and 19th centuries, mills were built near these waterfalls. Textile and paper industries harnessed its hydraulic power to run machinery.

Over time, the Hockanum River has been host to over 100 mills. Some still exist, including a paper mill in East Hartford (Cellu Tissue Corp.) that is the oldest continuously running plant, making the same product, in the United States. A few have also been converted for contemporary residential and commerical use. However, most of the mills have long since closed.

Shade and broadleaf cigar tobaccos were grown extensively in the western region. Due to changing techniques in processing tobacco leaves, rising property taxes and increasing operational costs, many farmers sold out or switched to other types of agriculture. Recent changes in the international marketplace have brought back a resurgence of tobacco production in the upper river valley.

Today the Hockanum River provides mainly recreational uses for Connecticut residents. An annual canoe/kayak race in Manchester brings many enthusiasts to the river. Hiking trails, created by the Association's Vernon, Manchester, East Hartford and Ellington linear park committees, offer quick and easy access to the natural beauty of the river. Manchester alone has about 15 miles for hiking and leisurely strolls.

Most of the Hockanum River trail network is well suited to the casual hiker who wants to amble along flat terrain in a forest with a river on one side and an undeveloped area on the other. The Connecticut DEP stocks and monitors game fish in the river (in Manchester as catch and release only); while in addition to hiking many of the trails are also appropriate for cross-country skiing and snowshoeing. Future trails are planned around Shenipsit Lake, and eventually the whole system will link up to the Connecticut River trail network.