<!>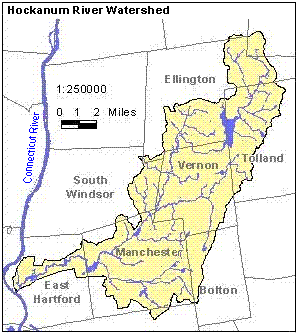 WATER QUALITY

Water pollution is generally classified as either point or nonpoint source (NPS). Point source is pollution that emanates from a specific spot, like an industrial or municipal waste discharge pipe. In general, NPS pollution results from water running over land and picking up substances that can have cumulative negative impacts on both surface and ground water.

Nonpoint source pollution is reported by the United States Environmental Protection Agency (EPA) to be the main cause of degraded water quality in the United States. A key source in Connecticut is stormwater from urban and suburban areas. Urban runoff is caused by rainstorms and melting snow. Contaminants from varying land uses are carried by the runoff and are funneled into nearby water bodies via storm drains and overland flow. Pollutants can consist of automobile fluids, heavy metals (e.g., lead, mercury, and copper), vehicle exhaust deposits, animal wastes, bacteria, viruses, pesticides, sediment, and nutrients.

Since 1970, volunteer groups have been conducting trash cleanups, streambank plantings, and trail building and maintenance projects along the river. Currently, water quality and other scientific studies are being carried out by the U.S. Geological Survey, the University of Connecticut, and the Department of Environmental Protection (DEP). In 1995, the North Central Conservation District initiated a watershed management project funded in part by a grant from the DEP through the EPA's nonpoint source pollution program under Section 319 of the Clean Water Act. These collaborative efforts focus on identifying and reducing pollution problems associated with stormwater runoff, and restoring fish and wildlife habitat.

In addition, DEP is continuing its efforts to upgrade the operational performance of the Vernon, Manchester, and East Hartford wastewater treatment plants. Most of the area landfills are either closed or are being capped with impermeable liners.