Hockanum River Linear Park Committee founder Dr. Douglas H. Smith passed away on March 28, 2017.
To read Doug's obituary, from the April 9, 2017 Hartford Courant, please click obituary.
On June 1, 2018, Bryan Island was formally renamed to "Doug Smith Island", in a ceremony on the
island. To access a section on the dedication ceremony in this website, please click ceremony.



<!>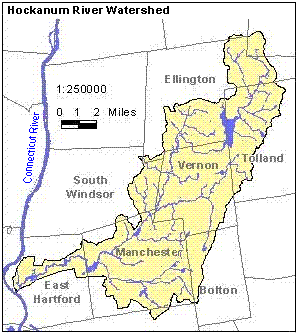 HOME PAGE

The Hockanum River Watershed* encompasses 9 towns and 77 square miles in north central Connecticut. The watershed consists of several sub-watersheds, including Charters Brook, Marsh Brook, the Tankerhoosen River, Shenipsit Lake, Lydall Brook, Bigelow Brook and Hop Brook. These sub-watersheds drain into the Hockanum River, which joins the Connecticut River and eventually empties into Long Island Sound.

The Hockanum River Watershed Association was organized in December, 1996, and consists of a volunteer group with members from the 4 towns in the Hockanum River Watershed which the river physically passes through. This group is dedicated to the preservation and protection of the watershed area's green belt and water quality.

Hockanum River Linear Park Committees are active in all of the 4 towns along the river, and these groups work to keep the river and woodlands clean; to maintain the hiking trails along the river; and to promote activities such as kayaking and canoeing, jogging, cross-country skiing, snow shoeing, bird watching and photography, both on and along the river and its tributaries.

Contact Us

For information or questions concerning the Hockanum River Watershed Association and its activities, or on making donations to either the HRWA or any of its towns' committees, please check the "Contact Us" link on any of the pages of the Town you're interested in.
______________________
*The word HOCKANUM comes from the Native American word "Hocquaun", meaning a hook-shaped or crooked river.
A watershed includes the land area that drains rain water or snowmelt into a river, river system or body of water.

Web contact: jamesh52@comcast.net